Enhanced cooperation vital for Greater Bay Area development
Policy support, institutional innovation, regional cooperation and market-driven forces are crucial for success of the Guangdong-Hong Kong-Macao Greater Bay Area, according to a new report from global consultancy firm Deloitte.
Though the region is endowed with institutional diversity, it has an industry structure that is geared toward manufacturing. Though upgrade of the industrial infrastructure is continuing, other aspects like division of labor among the 11 cities and a deeper analysis of how to realize the region's innovative potential are also necessary, the report said.
"The Greater Bay Area, with its compelling advantages such as a strong atmosphere of innovation and technology as well as a strong telecommunication industry, would help China move up the value chain of the manufacturing industry whose global market share is already very high; in fact, such high market share has made manufacturing upgrade imperative," Deloitte China Chief Economist Xu Sitao told China Daily in an interview.
'The Belt and Road Initiative will elicit the second wave of investment for trade and services after infrastructure and construction. The Guangdong province can bank on its niche in manufacturing and innovation to export high-end technology goods and services to B&R economies," said Norman Sze, northern region managing partner at Deloitte China.
The GBA was officially included in the 13th Five-Year Plan (2016-20) outline, which was approved by the 12th National People's Congress in March 2016.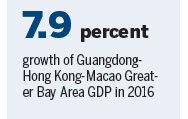 Clearly stated in Premier Li Keqiang's Government Work Report last year, the GBA blueprint refers to the city cluster formed by nine cities in the Pearl River Delta, including Guangzhou, Shenzhen, Foshan, Dongguan, Zhuhai, Huizhou, Zhongshan, Jiangmen and Zhaoqing, as well as the special administrative regions of Hong Kong and Macao.
By the end of 2016, the city cluster had a resident population of nearly 68 million and a gross domestic product of nearly $1.4 trillion, according to Deloitte data.
The region registered a GDP growth rate of 7.9 percent which was higher than the Tokyo Bay Area, New York Bay Area and San Francisco Bay Area in 2016. With tertiary industries accounting for 62.2 percent of the total economic activities, technology and innovation, financial services as well as manufacturing are poised to be the leading industry segments in the 11 cities, the Deloitte report said.
However, there are certain hurdles that need to be tackled for forging regional economic integration.
"Rising land cost is evident in the GBA and this has significantly affected manufacturing industries. The area also faces other challenges aside from cost. For example, the trend of fighting for capital globally as evidenced by US tax reform has brought the tax issue to the fore," Xu said.
Sze noted that GBA development not only requires central government policy support, but also cooperation among regional authorities.
"To achieve synergistic effects, it is not just the central government that has to plan, regional authorities also need to coordinate with each other on how to bolster GBA development. Regional authorities must make their voices heard," Sze said.
Copyright Notice & Disclaimer :
1. FSOA Public Service Platform reserves all right of all material marked with Source: FSOA Public Service Platform or Original Content. Anyone using the material is requested to properly cite and acknowledge the source by marking: Source: FSOA Public Service Platform. Anyone who violates this statement shall assume legal responsibilities under copyright laws.
2. All material or information marked with Source: XXX are reproduced or copied from other media. The material or information is included on this website for general informational purpose only. The views and opinions of authors expressed on this website do not necessarily state or reflect those of FSOA and FSOA will not assume any legal liability or responsibility for the views or opinions of authors expressed hereby.